BY
VIVIAN LEE
July 17, 2016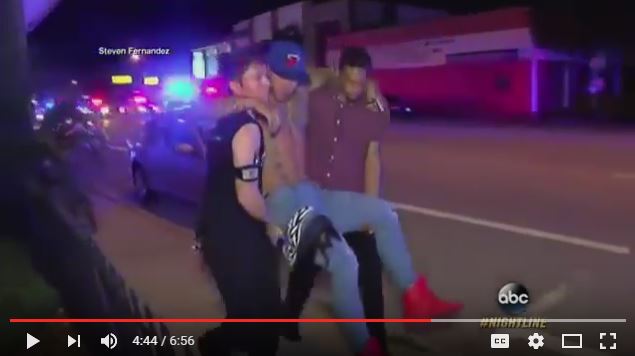 Figure 1. A "survivor with no visible injuries, being carried back toward the club. Image: ABC News.
New information on "the worst mass shooting in U.S. history" reveals a complex and confusing scenario at the Pulse nightclub in Orlando during the three hours of the "shooting" and its aftermath. The official story – or perhaps one should say stories – is a fragmented narrative composed of bits and pieces, consisting of interviews by "survivors" and "witnesses," cell phone videos supposedly taken inside the club, news footage, and remarks of various officials. Added to this are the texts and phone calls allegedly made by Omar Mateen, the "shooter," along with statements given by his father and wives, past and present.[1]
Leaving aside the ludicrous idea that Mateen phoned 911 several times while he was killing people, and also called News 13 TV as well as "a friend," at the same time as he was texting his wife and searching on Facebook – the various parts of the Orlando story just don't add up.[2]
As with other recent "mass shootings," there is a pronounced lack of evidence that a "massacre" actually took place – no bodies, no frantic attempts to save anyone at the scene, and no ambulances rushing people to the hospital, although 53 people were said to have been injured. Notably, there is no blood. But this does not present a problem for the official story, as numerous witnesses have attested to a huge amount of blood everywhere inside the club and covering all those who were shot. The use of the "blood" meme for the "Pulse" shooting is positively Satanic.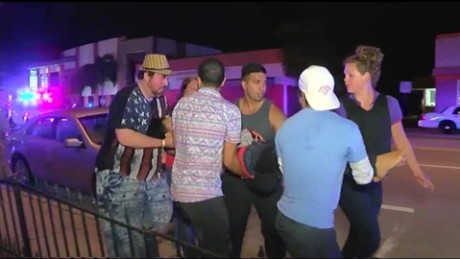 Figure 2. A "victim" being transported from the scene by "hero" Christopher Hansen and others – although he is actually being carried back to the Pulse. Image: CNN.
One of the witnesses describing the blood bath is Christopher Hansen, who claims to have helped several injured people – including a man who was shot in the back, whom he supposedly hoisted over his shoulder and carried. Hansen gave many interviews to the media while the "shooting" was still in progress, and more after the fact.
He says he crawled out of the club, drink still in hand, crawling over many bloody bodies, finally making it out and into the street. According to Hansen, there was:
… blood spattering – I didn't know if it was mine or somebody else's, but when I got out I realized it wasn't mine – it was somebody else's. The person I was with was shot in the back – I had to take my bandana off and tie it up…He was bleeding so bad his whole pant leg was red, and it was so soaked…my hands were just covered…[3]
But Hansen's on-camera presence shows no blood at all, with his clothes and hands virtually spotless. One wonders where and how he had a chance to clean up. A Facebook post by his father, Bill Hansen, confirmed that Christopher "helped so many people," including two who were bleeding. And yet, there was no blood to be seen.[4]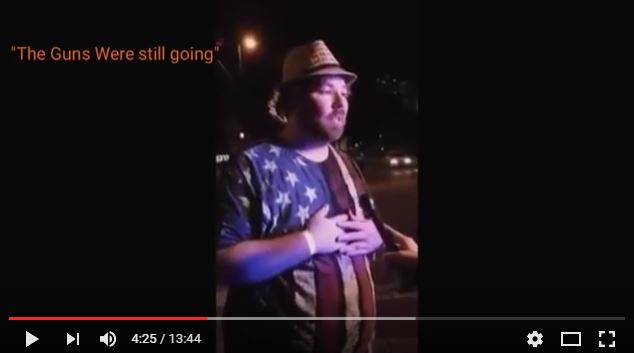 Figure 3. Christopher Hansen, "hero," giving an interview to the press, with no blood at all on his hands or clothes.
Chris is a performer, one of many at the Orlando event – and several attempts have been made to find him acting in footage. One possible match is a photographer in a promotional video for "Motivated Models," a "boutique trade show modeling agency" of "competitive, college educated individuals…looking to help you reach your event goals."[5] Professional connections aside, one can see Chris dancing and clowning in several online videos (Figure 4). For more on Christopher Hansen, see "Orlando Nightclub Shooting: Questions and Anomalies Surround 'Worst Mass Shooting in U.S. History'" (supra n. 2).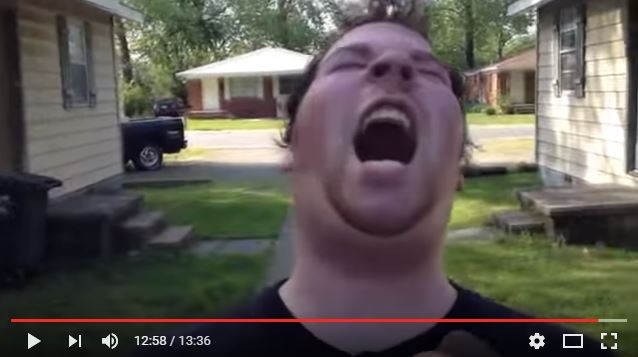 Figure 4. Christopher Hansen, mugging in a home movie.[6]
Chris is not the only one who saw blood – a continual feature of the horrifying story. "Survivor" Miguel Leiva, who has also given many interviews, sat down with CNN's Anderson Cooper on June 17 to chat about his experiences. Leiva is the one who supposedly took the video released to the press that purports to show a group of people holed up in a stall in the bathroom. Leiva not only saw the blood, he smelled it. According to his account:
I just remember, like, you can smell, like, the blood. There was so much blood, there was, like,  you could just smell it, and it's like everywhere you lean, like all my clothes was full of blood…we were sitting down, and it was just like a huge puddle of blood, and after awhile when it started drying up, it just started, like, to smell really bad…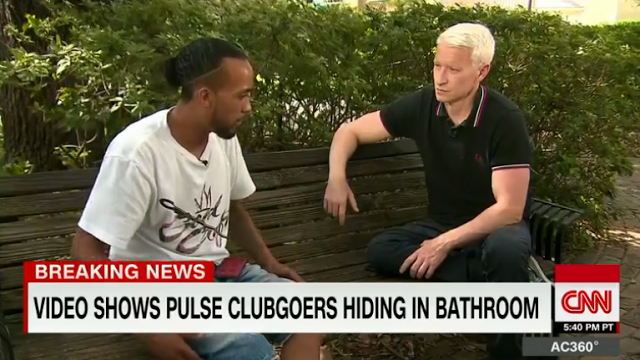 Figure 5. Miguel Leiva and Anderson Cooper, June 17, 2016. Image: CNN.
According to Leiva, the gunman fired twice into the stall, where "there was about 17 of us" – but "only like five or six of us made it out." The scene inside the bathroom stall is captured in Leiva's video, said to be one of three he took – either to send to his girlfriend, or to tell the world what happened if the group didn't survive.
Unfortunately for the official story, the "grainy cell phone video" doesn't provide any real evidence, and certainly does not show the "huge puddle of blood" that Leiva describes.[7] However, since he smelled the blood, it must have been there, and we can all believe Leiva and Anderson Cooper.
Figure 6. Video purportedly taken in the bathroom stall by Miguel Leiva. Image: CNN
Numerous Orlando doctors and medical staff are complicit, giving press conferences and interviews to detail the bloody carnage they supposedly saw. Drs. Matthew Lube, Michael Cheatham, Chadwick Smith, Joseph Ibrahim, William Havron, and Marc Levy sat down with Scott Pelley from CBS News for a televised conversation. In the presence of doctors and hospital staff, "survivor" Angel Colon, another staple on the interview circuit, recounted a medically impossible version of his injuries.[8] The fact that so many personnel have signed on does not inspire confidence in Florida's medical establishment.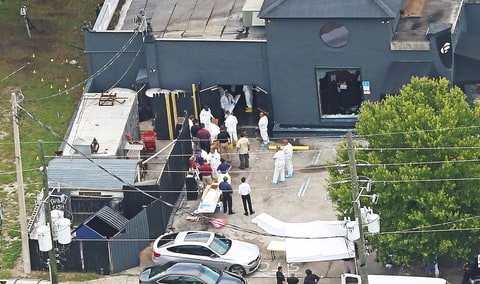 Figure 7. Bodies supposedly being removed from the Pulse after the "shooting," with no visible signs of blood. Image: Orlando Sentinel.
Bringing up the rear are Dr. Joshua Corsa's bloody sneakers. In a Facebook post, Corsa details the mess he encountered:
These are my work shoes from Saturday night…On these shoes, soaked between its fibers, is the blood of 54 innocent human beings…This blood, which poured out of those patients and soaked through my scrubs and shoes, will stain me forever. In these Rorschach patterns of red I will forever see their faces and the faces of those that gave everything they had in those dark hours…while I work I will continue to wear these shoes. And when the last patient leaves our hospital, I will take them off, and I will keep them in my office. I want to see them in front of me every time I go to work…I never want to forget that night.[9]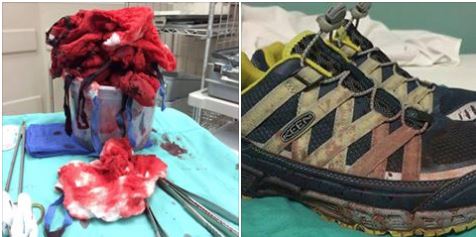 Figure 8. Photo of Dr. Corsa's bloody sneakers, with other bloody items, posted on Facebook.
If one looks closely at Dr. Corsa's sneakers, however, one sees only a small amount of red color, which may or may not be blood stains, and not "the blood of 54 innocent human beings" that had "soaked between its fibers." The red bandages seen at left are certainly too bright for real blood – and look more like the red paint of the Boston Marathon "bombing." BUT – if we can't see what they say we should see, we can trust that they saw it – and smelled it – because otherwise there would be no evidence at all for the Orlando "shooting."
The Orlando event coincided with the one-year anniversary of the Charleston Church "shooting," where there is likewise no evidence that a "massacre" occurred. Except, of course, for the body of the Reverend Clementa Pinckney, which lay in state at four separate venues, shuttled around before his burial on June 26, 2015.[10]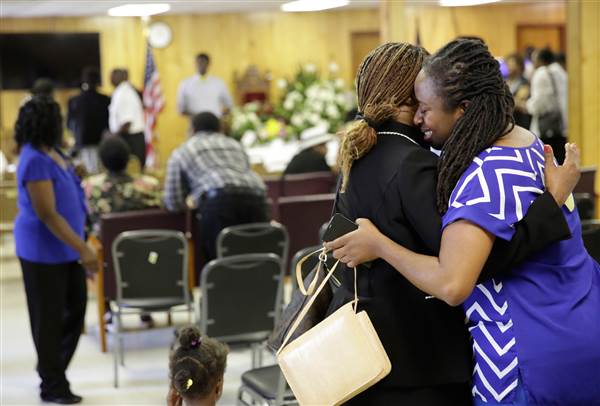 Figure 9. Parishioners embracing on June 21, 2015, in the basement of Emanuel A.M.E. Church, the room where the "shooting" supposedly took place on June 17. Image: NBC.
The blood meme is featured here too, with a horrific blood bath supposedly occurring in the church basement. Amazingly, only four days after the "slaughter," the Emanuel A.M.E. Church opened its doors for its regular Sunday service, with no indication that a bio-hazard team was brought in for a clean-up. In fact, an NBC photo shows members of the church community pitching in to tidy up the site.[11]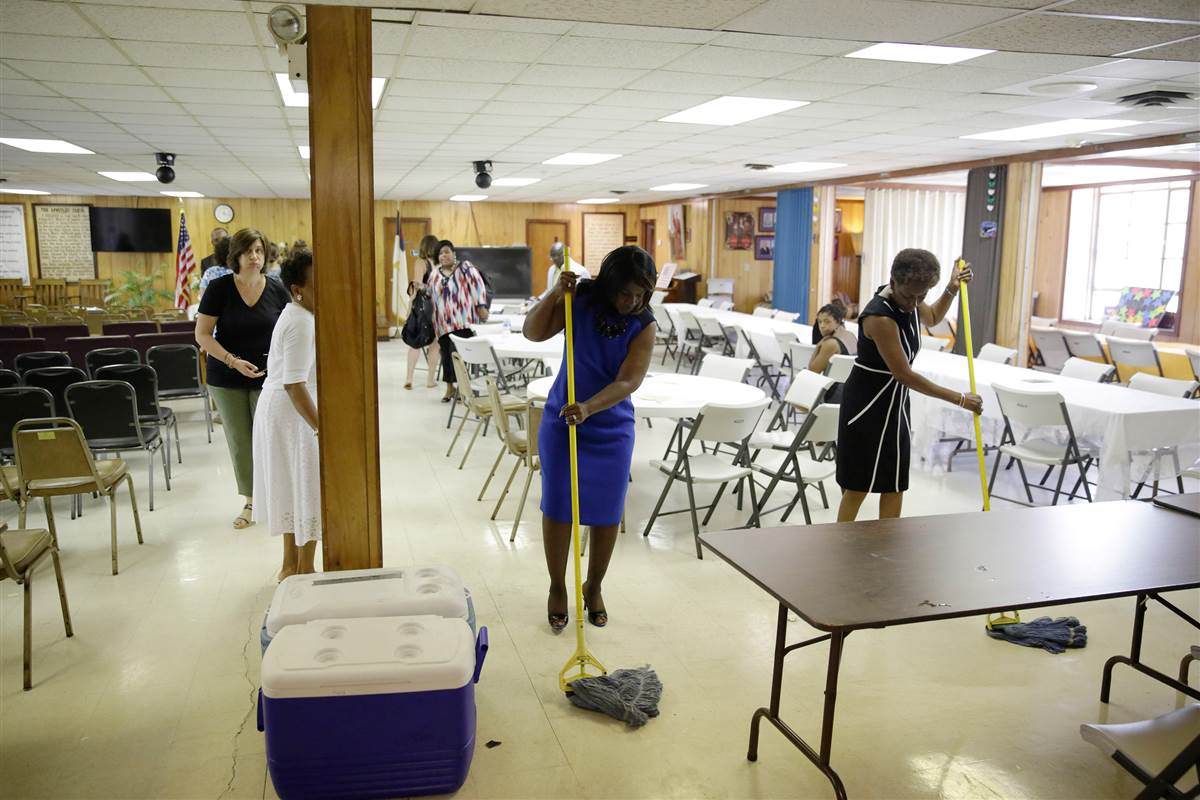 Figure 10. Parishioners clean up the basement of Emanuel A.M.E. Church on June 21, 2015, where the "massacre" supposedly occurred four days earlier. Image: NBC.
The anniversary of the Charleston Church "shooting" elicited press coverage and television tributes.[12] The New York Times interviewed members of the families of the "victims," many of whom said they forgave the "shooter," Dylann Roof. Felicia Sanders, mother of alleged victim Tywanza Sanders, alluded to the room in the basement, saying she was told at the time that the room "smells like blood." Daniel Simmons, whose father was supposedly killed, said he didn't think the church should have opened so soon: "When I went down to the church a couple of days after, I could still sense and smell blood."[13] The shooting must therefore have occurred, and the smell proves it.
What a clever way to convince us that, despite the lack of physical evidence, all the "mass shootings" actually took place. Starting with Sandy Hook, the many horrifying "massacres" produced no torrent of blood – and no bio-hazard teams to clean it up.[14] As if to counter this deficit, the media reports are increasingly gruesome and graphic. With each new shooting we get more blood and gore, as though the worse the accounts of the witnesses, the more readily we will accept the story.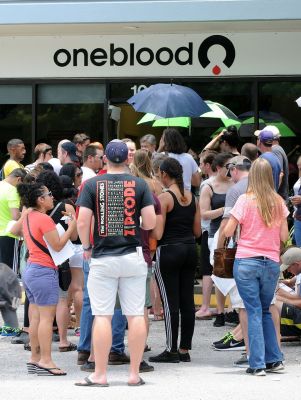 Figure 11. People line up to donate blood after the "shooting" in Orlando. Image: Newsday.
Even the call for blood donors in Orlando was macabre. People rushed to give blood in such large numbers that the blood banks were filled to capacity, and donors were asked to return – but later.[15] The urge to donate blood was surpassed only by the urge to donate money, with the Pulse GoFundMe page tallying over $5 million from 110,000 people in five days – and this is only one funding venue. Finally, the "shooter," Omar Mateen, allegedly gave blood on May 29, two weeks before his shooting rampage – in a bizarre twist – to a center that supposedly supplied blood to the victims.[16]
All of this enforces the idea that any of us could die at the hands of a domestic terrorist, or a racist, or a guy who hates gays – or is gay – or something. At any rate, we had better watch out, or we too could be victims of a hideous blood sacrifice.
VIVIAN LEE is the nom de plume of a tenured professor at an east coast university.
NOTES
[1] This story was first posted at MemoryHoleBlog.com (now MemoryHoleBlog.org) and is updated and revised here, for publication in the book, From Orlando to Dallas and Beyond (James Fetzer and Mike Palecek, eds., Moon Rock Books, 2016). Links for the videos and other supporting evidence are given in the notes, although many important videos have been since removed by YouTube.
[2] Vivian Lee. "Orlando Nightclub Shooting: Questions and Anomalies Surround 'Worst Mass Shooting in U.S. History.'" https://vivianleeposts.com/2016/07/15/orlando-nightclub-shooting-questions-and-anomalies-surround-worst-mass-shooting-in-u-s-history/. "Orlando Gay-Club Shooter Is Also an Actor!" Fellowship of the Minds, June 16, 2016. https://memoryholeblog.com/2016/06/16/orlando-gay-club-shooter-is-also-an-actor/
[3] "Orlando Shooting Looking To Be a Hoax. No Blood!" www.youtube.com/watch?v=tMhbZ6hRteg
[4] "Orlando Shooting: How Pulse Bouncer Opened the Door to Safety." www.bbc.com/news/world-us-canada-36526028
[5] Motivated Models. www.motivatedmodels.com.  "Busted! 'Christopher Hansen' Orlando Massacre Hoax CRISIS MODEL!" www.youtube.com/watch?v=5RkGGoamCcs
[6] "Orlando Massacre False FAG # The Musical." https://www.youtube.com/watch?v=qtOjFyHuNyY
[7] "Video Emerges from Inside the Bathroom during Attacks." www.cnn.com/videos/us/2016/06/17/orlando-shooting-bathroom-video-leiva-intv-cooper-ac.cnn. Also www.youtube.com/watch?v=MXW2Od1pxaY
[8] "Orlando Surgeons Speak Out: 'This Is Not Something That Goes Away.'"  www.cbsnews.com/news/orlando-pulse-nightclub-surgeons-speak-out-this-is-not-something-that-goes-away/.  "WOW! Crisis Actor Angel Colon UNBELIEVABLE BULLSHIT STORY – Orlando Pulse Shooting PSYOP." www.youtube.com/watch?v=P5lC3Tfdhvo
[9] "Orlando Doctor Shares Blood-soaked Shoes after Treating Shooting Victims." Orlando Sentinel, June 18, 2016. www.orlandosentinel.com/news/pulse-orlando-nightclub-shooting/os-bloody-shoes-orlando-mass-shooting-20160614-htmlstory.html. "A Surgeon's Bloodstained Shoes Have Become a Symbol of Orlando's Defiance." www.npr.org/sections/thetwo-way/2016/06/17/482532247/a-surgeons-bloodstained-shoes-have-become-a-symbol-of-orlandos-defiance
[10] Vivian Lee. "Charleston Church Shooting: The Roving Body of Rev. Clementa Pinckney." https://memoryholeblog.org/2015/07/02/charleston-church-shooting-the-roving-body-of-rev-clementa-pinckney/. And https://vivianleeposts.com/2015/07/02/charleston-church-shooting-the-roving-body-of-rev-clementa-pinckney/.
[11] "Parishioners Clean Site of Grisly Church Killings." NBC News, June 21, 2015.  www.nbcnews.com/storyline/charleston-church-shooting/parishioners-clean-site-grisly-church-killings-n379331
[12] "Charleston Church Massacre, One Year Later."  Special Report, with Brooke Baldwin. www.cnn.com/2016/06/17/us/charleston-church-shooting-anniversary/
[13] "Families Bearing Up a Year after Slayings in a Charleston Church." New York Times, June 17, 2016. www.nytimes.com/2016/06/17/us/families-bearing-up-a-year-after-slayings-in-a-charleston-church.html
[14] Vivian Lee. "Top Ten Reasons: Sandy Hook Was an Elaborate Hoax." In Nobody Died at Sandy Hook: It Was a FEMA Drill To Promote Gun Control, ed. James Fetzer and Mike Palacek. Moon Rock Books, 2015; second edition 2016. https://vivianleeposts.com/2016/07/25/top-ten-reasons-sandy-hook-was-an-elaborate-hoax/. Also "The Real Deal." http://radiofetzer.blogspot.com/search?updated-min=2013-01-01T00:00:00-08:00&updated-max=2014-01-01T00:00:00-08:00&max-results=50
[15] "Blood Banks at Capacity, Donors Urged To Return in Coming Days." Orlando Sentinel, June 12, 2016. www.orlandosentinel.com/news/breaking-news/os-orlando-nightclub-shooting-blood-donations-20160612-story.html
[16] "Orlando Gunman Donated Blood Less Than Two Weeks before Shooting." http://abcnews.go.com/Health/orlando-gunman-donated-blood-weeks-prior-shooting/story?id=39873117
(Visited 7 times, 1 visits today)
Please follow and like us: