BY
VIVIAN LEE
April 28, 2019
On Saturday, April 27, 2019, the final day of Passover, a gunman allegedly burst into the Altman Family Chabad Community Center in Poway, north of San Diego, and shot off ten rounds or so from an "AR-15 style gun," killing one person and injuring three others. The attack was carried out six months to the day after the alleged shooting at the Tree of Life synagogue in Pittsburgh. President Trump responded: "Our entire nation mourns the loss of life, prays for the wounded, and stands in solidarity with the Jewish community. We forcefully condemn the evil of anti-Semitism and hate, which must be defeated."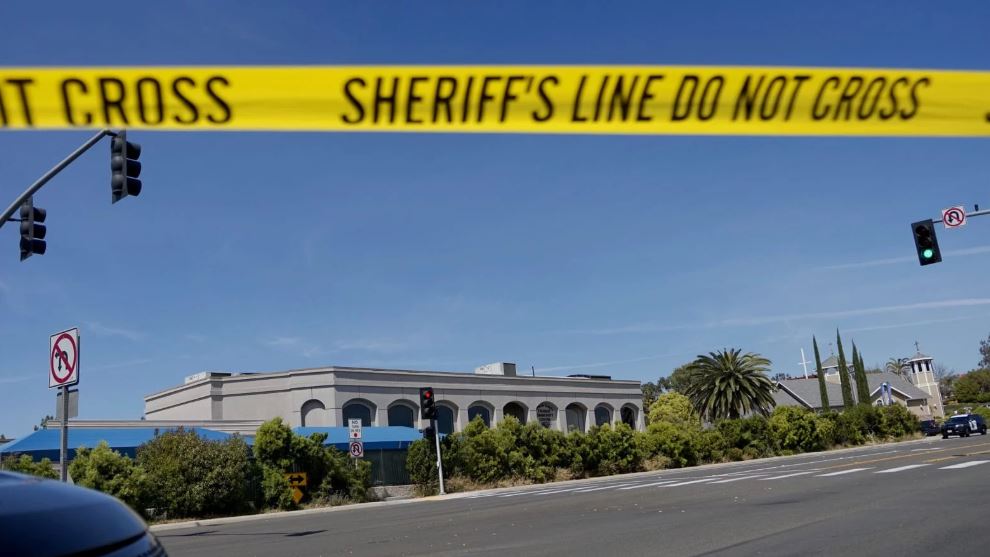 Chabad Community Center, Poway, CA.
According to The New York Times, the gunman "paused when the rabbi of the congregation tried to talk with him. But he fired again, shooting the rabbi in the hand." Rabbi Yisroel Goldstein reportedly lost a finger in this account, although other reports have him missing two fingers, or all the fingers on his hand. An alleged eye witness said that the rabbi continued with his sermon, even though his hand was bleeding. However, the rabbi himself said that he immediately ran and got everyone out of the sanctuary to safety, "not even knowing that my fingers were blown off." Only then did he continue his sermon, outside the synagogue.
"I got up there and just spoke from my heart," the rabbi said. "Just giving everyone the courage to know, it was just 70 years ago during the Holocaust we were gunned down like this, and I just want to let my fellow Americans know that we're not going to let this happen."
Which version is correct? Rabbi Goldstein has given an interview detailing the harrowing encounter.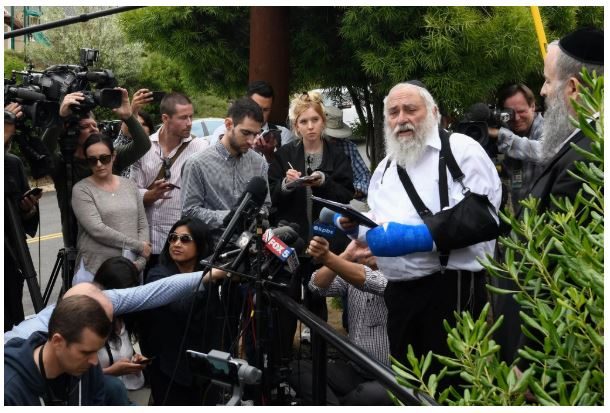 The gunman has been identified as 19-year-old John Earnest of San Diego, a "white nationalist" who "screamed that Jews were ruining the world as he stormed the synagogue." He then fled the scene in his car, which sustained gunshot damage as he was driving away. So far so good for the gunman, but did he succeed in escaping? No – because he decided to call the California Highway Patrol to report his location on Interstate 15, and then, when approached by a policeman responding to the attack, he jumped out of his car with his hands up. Odd behavior for a determined killer.
The police apprehended the gunman when he pulled over in his car and surrendered, according to the authorities. Image: John Gastaldo, Reuters.
Yes, he was determined, reportedly posting an "anti-Semitic, Islamophobic, white supremacist manifesto" on 8chan before the shooting – "an  anti-Semitic screed filled with racist slurs and white nationalist conspiracy theories," echoing the "manifesto" posted by the New Zealand gunman in the less-than-believable Christchurch attacks of March 15. Reports suggest that he may have tried to stream the shooting "in real time." The New Zealand and Pittsburgh attacks supposedly inspired Earnest to shoot up the Poway synagogue.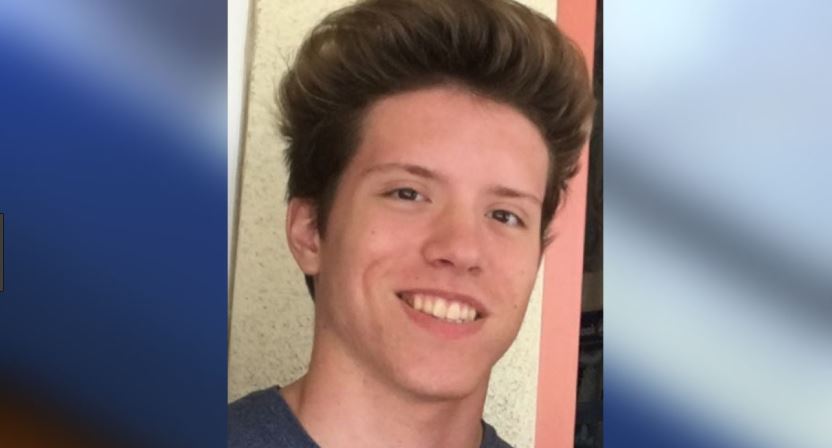 John Earnest, suspect.
As reported by The Daily Beast, Earnest is "a piano-playing nursing student" from a "religious family with a racist secret," who practiced for hours each day and had a GPA of 4.31 – and who looked up to Adolf Hitler and believed that Jews "deserved nothing but hell" and wanted to be the one to "Send. Them. There." Earnest's father was an elder in the Orthodox Presbyterian Church; the pastor of the church thought that John was not the sort of person to carry out such an attack. "This is a complete surprise," he said.
As with other staged shootings, those present did not immediately realize they were hearing gunshots, one person saying, "I thought maybe someone was stepping on those little plastic bubbles." Other problems include the numerous postings of articles about the shooting made in advance of April 27.
A Google search turns up numerous articles on the alleged shooting that were posted before the event. Source: 153news.net.
As to why the shooter did not do more damage, The Times says, "perhaps because his gun stopped working." Or maybe because "He was a coward," as reported by ex-military congregant Oscar Stewart, who says he rushed the shooter and scared him away. Finally, even though the injured victims have all been released from the hospital, a Go Fund Me effort is trending, with donations "used to pay for any necessary medical operations for the victims, funeral services, synagogue reparations or anything else the synagogue would need assistance with." Stay tuned for what will surely be more problems and anomalies as the narrative progresses.
VIVIAN LEE is the nom de plume of a tenured professor at an east coast university.
This article was also published at JamesFetzer.org.
(Visited 39 times, 1 visits today)
Please follow and like us: