BY
VIVIAN LEE
August 5, 2019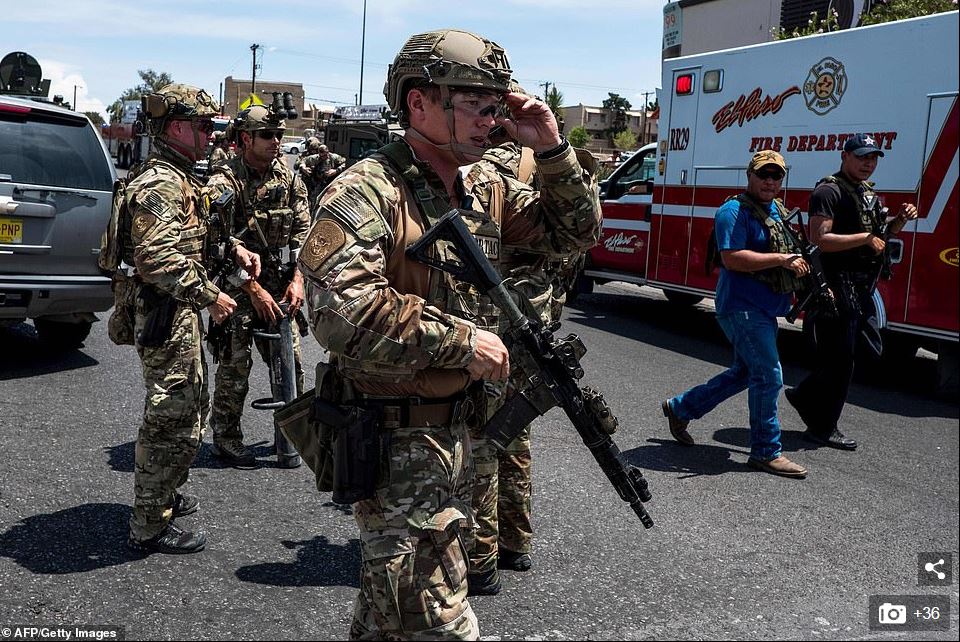 Militarized law enforcement on the scene at the Cielo Vista Mall, El Paso, where the Walmart shooting allegedly occurred. Image: Daily Mail.
An action-packed summer weekend filled with not one but TWO mass-casualty events! Not to mention the Garlic Festival shooting in Gilroy, CA, of July 28. But the El Paso Walmart shooting and Dayton bar shooting are big ones, with 22 and 9 reportedly dead. That should knock the coming Epstein-related disclosures off the front page – or perhaps the news that the FBI conspired with Hillary to destroy her hard drives – although an additional event may be required for this purpose in the near future. These two "shootings" are highly problematic, however, with little to indicate that they occurred as reported.
THE EL PASO WALMART SHOOTING
On Saturday August 3, just before 11 am MDT, a gunman allegedly walked into a Walmart store in the Cielo Vista Mall and opened fire with an AK-47 type assault rifle, as shown in images from surveillance footage. The rifle was purchased legally, and the suspect, Patrick Crusius, was allowed to carry it openly in Texas, although the mall was apparently a gun-free zone. Without any extra ammunition, Crusius magically killed 20 people (the total has now risen to 22) and wounded another 27 with a single 30-round magazine.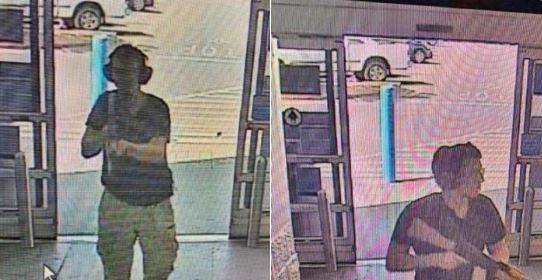 Surveillance frames posted online of suspect Patrick Crusius allegedly walking into Walmart with an assault rifle. Image: Daily Mail.
Eye witnesses saw multiple shooters, dressed in black, but the story soon changed to a single gunman. Fox News reported shots being fired rapidly in multiple locations; more shots were fired 20 minutes later, although this has been dropped from the narrative. The police arrived in 6 minutes, but little information is available as to when and how they engaged and apprehended the shooter. According to Fox, officers found Crusius in his car outside the mall, and he surrendered voluntarily. Images show a lone policeman leading Crusius away in handcuffs, with no protection provided by any of the heavily armed law enforcement officers or SWAT team members on duty.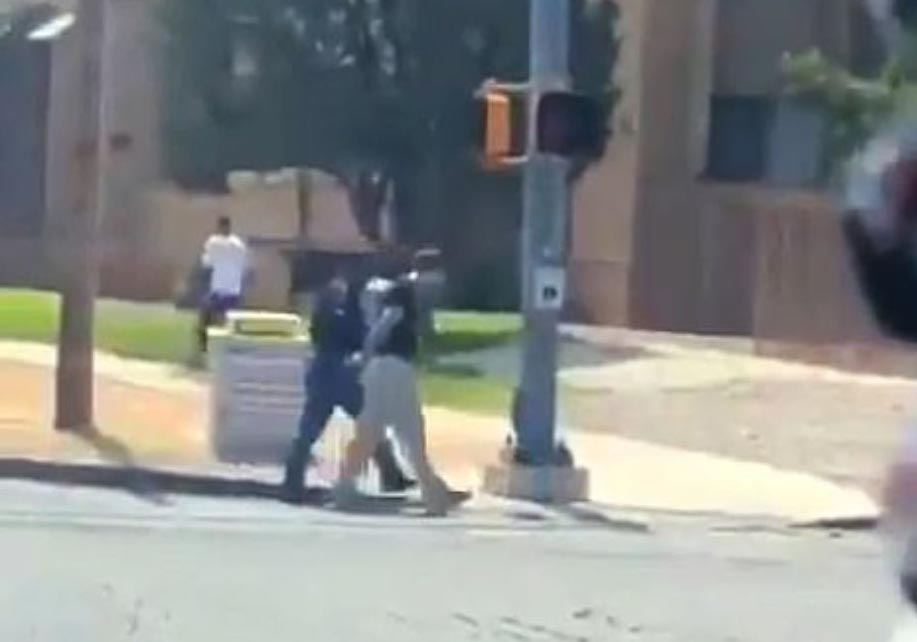 Patrick Crusius apprehended, being walked away by a single policeman. In the background, a pedestrian appears oblivious to the presence of the alleged mass murderer with his police escort. Image: Daily Mail.
According to witness accounts, the gunman started shooting in the parking lot and then continued inside the store, "shooting everyone, aisle by aisle, with rage." As with other staged shootings, witnesses did not recognize the sounds they heard as gunfire, saying they were like "balloons popping" or "loud boxes being dropped or something" or "hits, like roof construction." As with other staged events, cell phone videos show people running and being directed to exit the scene, but no evidence of any real gunshot violence, except for a few red-splattered victims. Although Walmart was filled with security cameras, store footage has not been released to the public.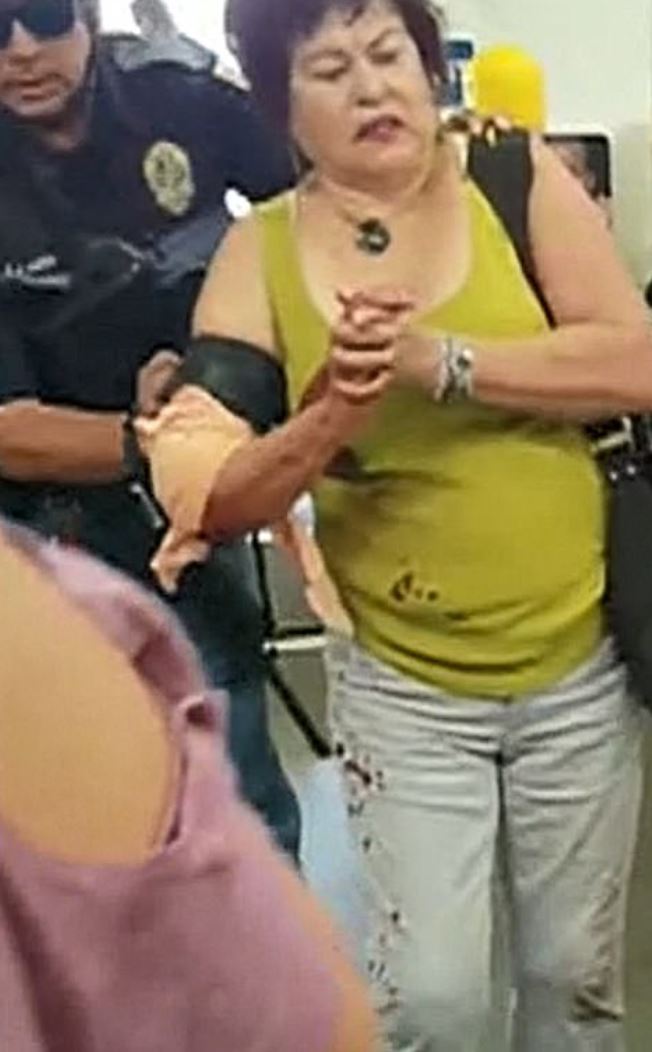 Alleged victim with blood-like spatters being helped by policemen. Image: Daily Mail.
As of this writing, at least 27 were reported injured and taken to local hospitals. Some of the injured supposedly did not seek medical treatment because of their immigration status. The CEO of the Del Sol Medical Center in El Paso, David Shimp, has urged all those with injuries to seek medical attention, regardless of citizenship status. According to Shimp, "Undocumented citizen or not, we're going to do everything we can to make sure we're doing everything we can for them." Note the new category that this event has produced – the "undocumented citizen."
News reports attribute the shooting to "white nationalism" or "white extremism," and some are blaming Trump, calling him a racist. As Cory Booker remarks in an NBC interview, "We have a President of the United States who is particularly responsible…this harvest of hate violence that we're seeing right now lies at his feet."
Senator and Presidential candidate Cory Booker.
Crusius, a 21-year-old QAnon follower, reportedly posted a 2,300 word "manifesto," The Inconvenient Truth, on 8chan at 10:12 am, 27 minutes before the first 911 calls to the police. In the "manifesto," he indicates his support for the New Zealand "Christchurch shooter" and his "manifesto" (even though the entire NZ event was fake). He states, "This attack is a response to the Hispanic invasion of Texas…I am simply defending my country from cultural and ethnic replacement brought on by an invasion."
There follow the "political reasons" and "economic reasons" for the attack, along with information on his "gear" – AK47(WASR 10) and 8m3 bullets – and "personal reasons and thoughts." As with other "manifestos" posted by alleged shooters in staged attacks, this one reads like it was written by an employee of one of the government agencies or intelligence services involved in the operation.
In a Twitter post, former deputy attorney general Rod Rosenstein calls the alleged massacre "white terrorism." According to Rosenstein, many such killers "are lone-wolf losers indoctrinated to hate through the internet, just like Islamic terrorists." A New York Times editorial calls it "white nationalist terror," aided and abetted by "online communities like 4chan and 8chan."
This idea conforms nicely to the FBI's recent assertion that "conspiracy theory-driven domestic extremists" are a growing terrorist threat, and that "conspiracy theories" thrive in "the modern information marketplace, occasionally driving both groups and individual extremists to carry out criminal or violent acts." Such as the "shooting" at the El Paso Walmart, I guess.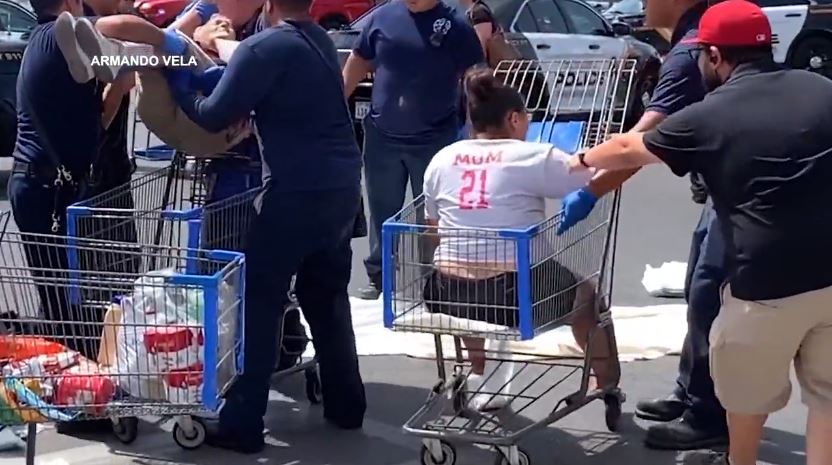 Allegedly injured victims being transported via Walmart shopping carts, with no blood to be seen. Image: Nexstar Broadcasting, Inc.
Finally, as with other staged shootings, the participants amble around casually, with no sense of urgency or fear. Emergency protocol was not observed – no colored START tarps are in evidence, and EMTs and ambulances did not swarm the scene. Instead, makeshift efforts to attend to the "wounded" were carried out with the help of bystanders, and shopping carts were pressed into service. A drill or "training exercise" for a "mass killing" had just been held at the Del Sol Medical Center, which is allegedly treating 11 of the "injured." Witnesses are not credible, and actors were involved. Blood donations were solicited, and pizza was served. Funeral homes have offered their services free of charge. Some Go Fund Me accounts were set up for the "victims" before the "massacre" actually occurred, and news reports were written up days before the event.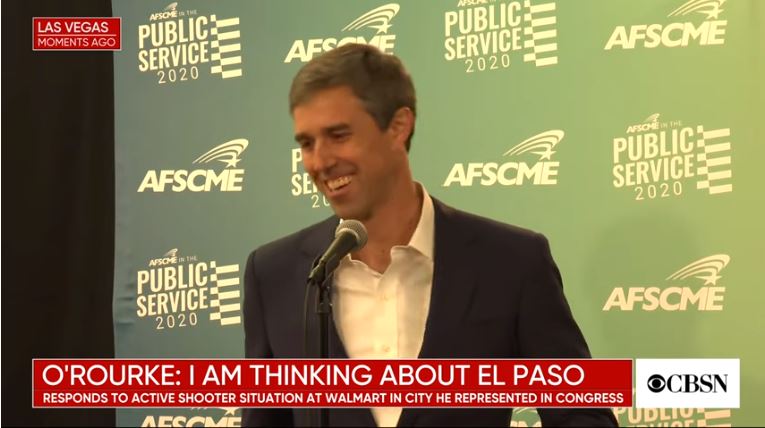 Beto O'Rourke reacts to the shooting with levity, earning him the title "the new Robbie Parker." Image: CBS.
As the evidence suggests, this was a drill gone live, with multiple gunmen shooting blanks and Crusius playing the patsy. Contrary to Mike Adams's assertion, there is no indication that anyone actually died at the Walmart in El Paso. This alleged shooting looks like a piece of (poorly) staged theater, calculated to push the gun control agenda, bolster illegal immigration and enhance the rights of "undocumented citizens," reflect poorly on Trump, give the Democrats a boost for 2020, and further terrorize the US citizenry with another freakish psyop. Insider Beto O'Rourke finds it awfully funny.
THE DAYTON BAR SHOOTING
The El Paso "shooting" was followed 13 hours later by a second "shooting" in Dayton, Ohio. Connor Betts, 24, allegedly killed 9 and injured 27 in less than a minute outside the Ned Peppers bar at 1:05 am on Sunday. Betts reportedly wore a mask, body armor, and hearing protection. He supposedly carried an AR-style assault rifle with 100-round drum magazines and also had a shotgun in his possession. The 9 victims were identified within hours and included the gunman's sister; Betts himself was shot and killed immediately by the police.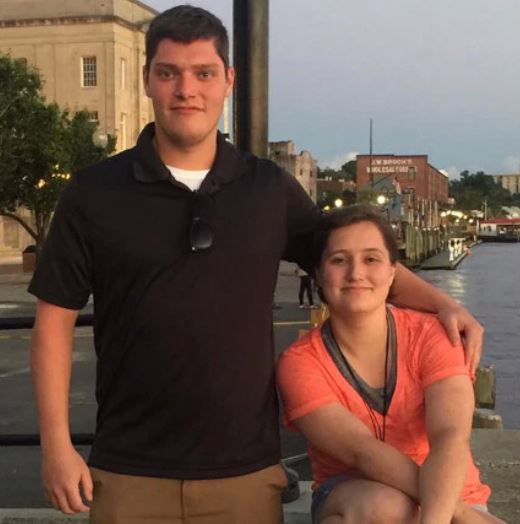 Connor Betts and his sister Megan, whom he supposedly killed. Image: New York Post.
Witnesses described the sound of the gunshots as "bang-bang-bang-bang" and reportedly found bodies lying all over the ground outside the bar. Officers at the scene were asking people for their belts to use as tourniquets, and party-goers stripped off their shirts and did CPR. According to one Holly Redman, "It was like World War II." Cell phone footage posted on Twitter shows alleged bodies lying on the ground covered with sheets.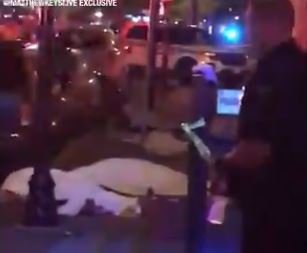 Screen shot of alleged bodies seen after the Dayton "shooting."
On the other hand, video from an "unnamed source" obtained by CNN shows the same area with people crouching on the ground and no visible injuries.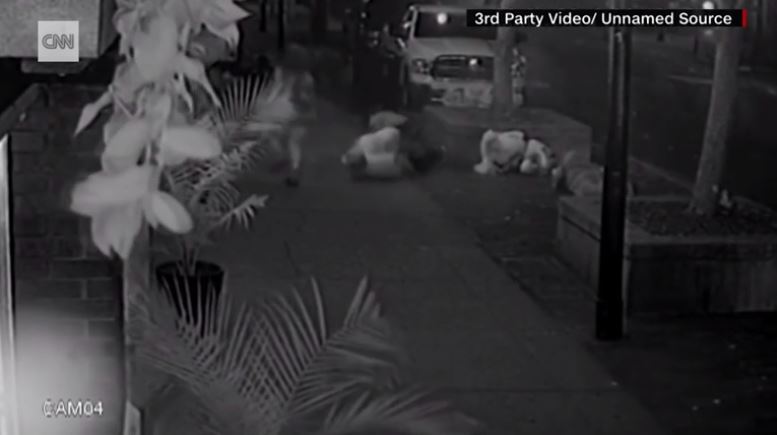 Frame from a video from an "unnamed source" obtained by CNN purporting to show bodies on the ground outside the Ned Peppers bar. Image: CNN.
The Dayton police released an audio recording and later a two-part surveillance video that allegedly shows the death of Betts at the entrance to the bar. The footage does not comport with the reports of the attack, however, as troops of people run down the street, followed by Betts, who does not appear to be shooting; no one is hit, and no victims are shown on the ground outside the bar. While several officers are shooting at Betts, one man gets out of his parked car and strolls across the street – an unlikely occurrence if the event were real. The surveillance video – and the shooting scenario – were staged but not well coordinated.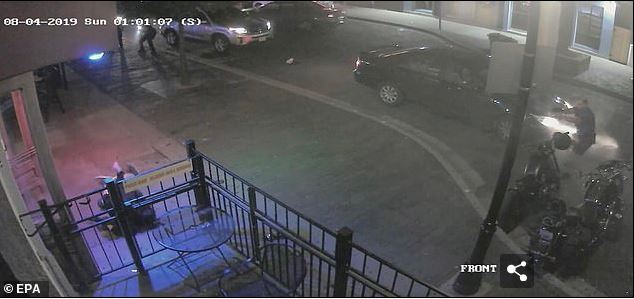 Surveillance video frame allegedly showing Connor Betts on the ground at left outside the Ned Peppers bar, after he was shot by the police. Image: Daily Mail.
Even stranger, alleged photos of Betts lying dead on the ground have surfaced online, showing him wearing tan shorts and a black sweatshirt that reads "No Heart to Feel – No Soul to Steal," from the song "Ramirez" by the Metalcore band The Acacia Strain – which has disavowed the shooting. What happened to the mask and body armor? And why is Betts not covered in blood, after being strafed with 65 rounds of ammunition? Is this a human corpse or a life-like dummy? Click on the link to view the photos.
Meanwhile, one Connor D. Betts has appeared on the internet, and he seems to have died in 2014 at the age of 22 in Suffield, CT. Watch the 2014 tribute to this long-deceased young man. This other Connor Betts even had a sister named Megan. So what gives, folks? Questions and anomalies, indeed.
As with other staged mass-casualty incidents, we have fabricated accounts about the suspect as well as unbelievable witnesses, officials, and relatives, who behave inappropriately for a tragic event. We have a massive exercise and drill program scheduled to take place in Ohio during the week of August 5-8, with the Dayton drills occurring on August 6-7. We have stories about the "shooting" written before it happened. And we have SHOES – lots and lots of shoes, which show, I don't know – that this was another psyop?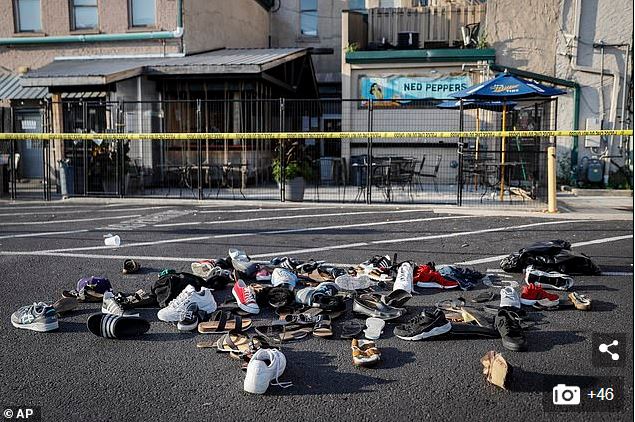 Hoax shoes piled up in the street near Ned Peppers. Image: Associated Press.
Another weekend, another bunch of massacres. An article by Andrew Marantz in The New Yorker sorts it all out, telling us that "the national conversation will now turn, as it should, to gun control, to mental illness, and to the President's practice of exacerbating racial tensions." The author connects the new shootings not only to the New Zealand mosque attacks but also to the synagogue shootings in Pittsburgh and Poway, CA. He cites a Google spreadsheet of shootings posted on 8chan, with the alleged killers referred to as "martyrs." He neglects to inform his readers that all these events were fake.
The problem is "radical nationalism, unhinged nihilism, and fears of 'white genocide,'" as well as "free speech" networks such as Gab, 4chan, and 8chan – platforms that "serve as round-the-clock white supremacist rallies," according to the Anti-Defamation League. First Amendment constraints notwithstanding, Marantz hopes that more pressure can be brought to bear on such platforms. On Monday, The New York Times called for 8chan to be shut down, and efforts are underway to do so.
The New Yorker thinks that the two weekend shootings "should spur democrats to propose big ideas on gun violence." Certainly, the Democratic Presidential candidates all have their gun-violence-prevention plans. These "Presidential hopefuls" will convene at a forum in Las Vegas on October 2 (following the second anniversary of "the deadliest mass shooting in modern U.S. history") to discuss the problem. The forum is sponsored by the Giffords group and March For Our Lives. Parkland "survivor," David Hogg, wants the candidates to discuss "bold and holistic plans" that tackle all aspects of gun violence.
The real problem is not gun violence, however, but staged gun violence. And weather warfare, forced immigration, and the erosion of our rights under the U.S. Constitution. The country came under attack on September 11, 2001, in what was only the opening salvo. With the corporate media in league with the traitors who are perpetrating this program, it is hard to feel optimistic.
VIVIAN LEE is the nom de plume of a tenured professor at an east coast university.
This article was also published at JamesFetzer.org.
(Visited 61 times, 1 visits today)
Please follow and like us: